Southern California Edison electric company wants me to pay a $75 setup fee and $10 per month in order to NOT install new equipment. Can you imagine if the termite man was authorized to bill you to NOT come do exterminations?  How about if the auto-mechanic bills me to NOT fix my car.  This world is insane!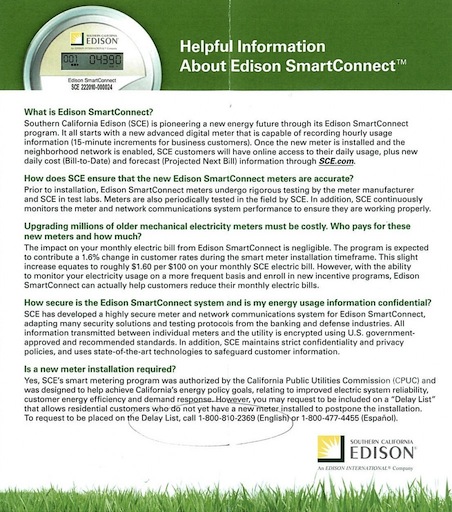 SoCal sent the above notice with the last bill saying one can be put on a Delay List (for free).  This is nothing but bait-n-switch.  I actually called the number and found out the California Public Utilities Commission (CPUC) has eliminated the Delay List and created the only alternative program: their new "Opt Out" program.
In order to "Opt Out", you have to pay a 1-time $75 setup fee to NOT setup the new meter, and then you have to pay $10/mo to have them "maintain and fix" the old meter.  Well, now in some 3-4 DECADES of life, I have NEVER had to have an electric company come maintain or fix a meter.
What a bogus sham.