The BaoFeng UV-B5 is a handheld transceiver that does wide and narrow FM on 136-174 MHz, 400-470 Mhz, and receives commercial FM(65-108 MHz).  Power out is 1 watt or 5 watt output.  A brand new one from eBay set me back $28. Not a bad deal. Here are some operating notes.
Q: How do I skip a channel during channel scan?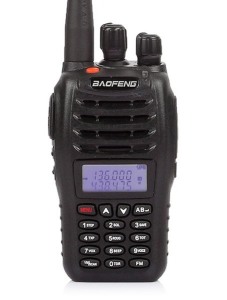 A: Channel scan mode works easily by tapping the Menu, then Scan button. However, all filled channels are scanned, and there's no way to lockout a channel with the keyboard, so the radio locks onto things such as NOAA weather radio. Instead, use the UV-B5 software that comes with the data cable, or the CHIRP program. One of the columns on the frequency editing spreadsheet is to enable scanning or skip scanning. Choose no scanning and the channel will be skipped. You can still jump quickly to the locked out channel by simply entering the 2-digit channel number on the keyboard. If you power off with the locked channel active, the radio will power back on with the locked out channel active.
Q: Why do I want a radio that works outside of ham bands?
A: Receiving the NOAA weather stations is convenient when out and about, especially if you live in a more remote area.  The FRS frequencies are legal for friends and family to communicate legally on, so now we can communication when caravaning or walking at public events even if they don't have a ham license.  When I have time, I'll rig the spkr/mic for my motorcycle helmet.  FRS is good for about a mile distance. The UV-B5 also does GMRS , which according to the FCC, may no longer require licensing in the future (licensing for you and family can be done now, if you desire).  GMRS can have repeaters and is good for 5-25 miles. Rather than install an intercom between the house and an outbuilding, these radios are cheap enough to buy two.
If you're serious into outdoor camping or survival training, look at the UV-B6 which is just like the UV-B5 except the selection dial in the top center of the radio is replaced with an integrated LED flashlight.
Q: What good is a VOX PTT?
A: At about $30 each,  it is affordable to use two radios and create your own cross-band repeater.  Amateur bands or GMRS.
Q: Are Lithium Ion batteries different than NiCd?
A: Batteries last several days of running the handheld with intermittent transmit and no long conversations.  Be careful when packing them. Battery terminals are exposed and if shorted across something in your pack, the battery pack can get hot enough to start a fire.  Maybe put the spare in a plastic baggie.  I have used the 12-volt adapter in the car, but the  radio puts out a buzz on the audio when used with a 2003 VW Jetta.  Combined with the longer life Li Ion batteries, I find myself using just the battery more.